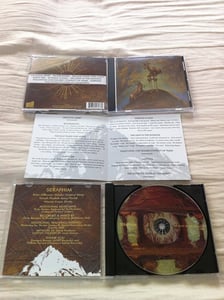 $

7.00
The second Seraphim release on a389 records and first release on Chainsaw Safety! "The Light In The Distance" Cd version. Includes 10 min of extra music not included on the vinyl version!
CD
9 tracks
58 min.
Tracklist:
Growing Apart
Frustrations
The Dust Filled Our Lungs
Empty Sea
Without a Soul
The Light In The Distance
Following our Failure/ Conflict of Years
Sleepless
This Distance Loves My Loneliness
Description: Seraphim's ambitious debut full length perfectly balances super heavy droning riffs, somber moments of experimentation, and vocals that go from gruff to clean without ever losing their sense of melody. Completely epic.
Review: Lets face it, to say that as the years have gone on the whole Neurosis/Isis/ETC style of "post-metal" music has been aped by hundreds of bands and to say that particular subgenre of music has become stale would be beating a dead horse at this point. It seems like no matter how many bands put out records like this, they always seem to boil down to pale imitations of the real thing. Seraphim has not only dispelled this preconception, they have raised the bar. After releasing a promising demo and 3 song 7 inch, they have released their incredible 8 song LP and the time and effort they spent on crafting this masterpiece definitely shows. Crushing heavier sections blend seamlessly into hypnotic psychedelic guitar riffs and breathtaking acoustic passages. It helps that they are backed by an amazing recording as well. Seraphim were always a very promising band but this LP finds a band coming into their own and proving that their songwriting chops are not something to be taken lightly. Fans of the aforementioned bands and the genre of metal in general would be doing a great disservice to themsleves if they don't check out and ultimately pick up this record. It won't be long before Seraphim is mentioned alongside bands like Baroness, Kylesa, Torche as heavyweights in the forefront of metal. I cannot recommend this album enough." -Words Of Evil